In the second parts of our series of Turkish Dessert, we will introduce You with Pudings and milk based desserts. Althought around the world puding is not an idea of an dessert, in Turkey it has long and rich tradition. Like any type of food in Turkey, this list can be endless, but we will list eight most popular ones.
Fırın Sütlaç: Turkish Rice Pudding
The name of the most popular milk pudding derives from "sütlü aş" ("milk food"), which was eventually rolled into one word.
Turkish rice pudding is prepared with milk, rice, rice flour, sugar, and vanilla often topped with grinned hazelnuts and cinnamon. Sütlaç is especially appealing when baked to form a slightly burnt leathery skin topping the runnier creamy pudding underneath. The whole mix is finally browned in salamander broiler and sugar is added depending on whether it's consumed for dinner or as a dessert.
2.Aşure: Noah's Seasonal Dessert
According to the Islamic beliefs, when Noah survived the big flood, he prepared a pudding with the remaining ingredients and that pudding is Aşure.
Aşure or Noah's pudding is often said to be one of the oldest desserts in the world. Though the exact combination of fruits, nuts, and beans can vary, aşure is most typically prepared with dried figs and apricots, golden raisins, currants, hazelnuts, pine nuts, walnuts, chickpeas, white kidney beans, and bulgur, barley, or wheat, while its aroma comes from lemon or orange zest.
According to Islamic tradition, since it is customary to fast for the first 10 days of Muharrem—the first month of the Islamic calendar—on the 10th day, when Muslims break the fast, this Turkish porridge-like treat is shared among family, friends, and neighbors as a symbol of diversity, friendship, and unity.
3.Kazandibi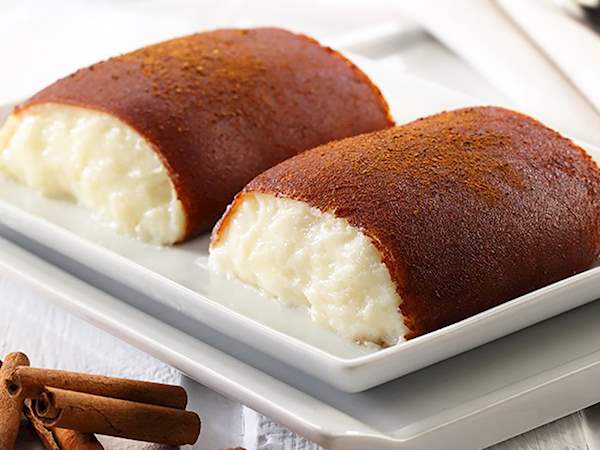 Dating back to the Ottoman times, kazandibi is a Turkish dish that can be translated to burnt bottom pudding, referring to the burnt bottom of the pan that it is cooked in. The dessert consists of butter, milk, rice flour, sugar, starch, and flavorings such as vanilla, rosewater, or ground mastic gum.
In Turkey, kazandibi is usually served as thin ribbons which are then rolled, although it can also be served in thick squares. The caramelized top of kazandibi gives it an earthy flavor, which contrasts quite nicely with the sweet and milky flavors on the interior.
4.Keşkül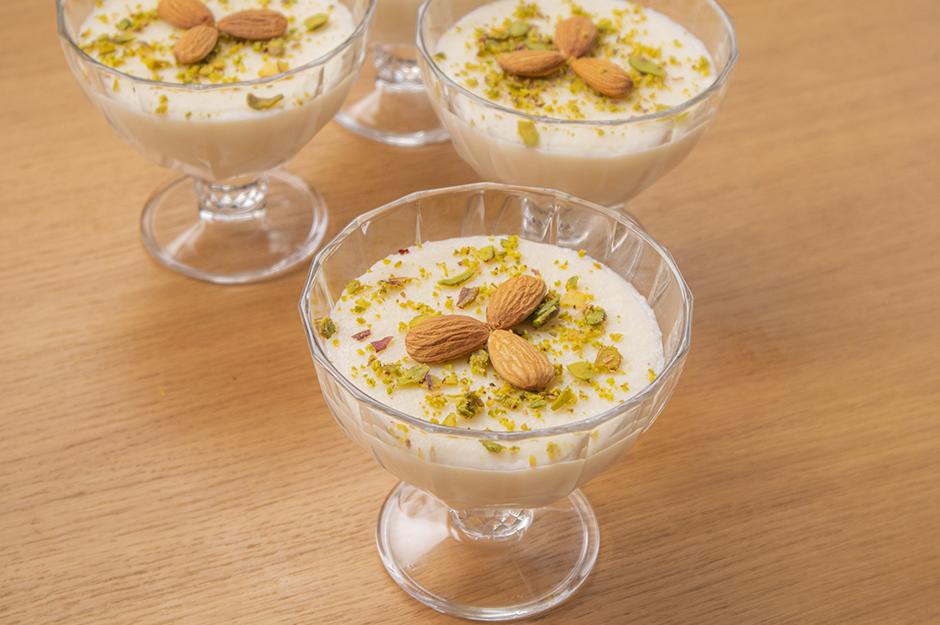 This Almond-flavored milk pudding is a light Turkish dessert that is believed to have originated during the Ottoman era. Keşkül was the begging bowl of wandering dervishes in which they collected donations and a mix of foodstuffs given as alms, inspiring the pudding's name.
It is a simple yet delicious pudding cooked with crushed almonds, grated coconut, milk, sugar, rice flour and corn or potato starch. Coconut and blanched almond flakes or pistachios sprinkled on the top are the finishing touch. Like the rest of the pudding desserts it is served cold or maximum at room temperature.
5.Muhallebi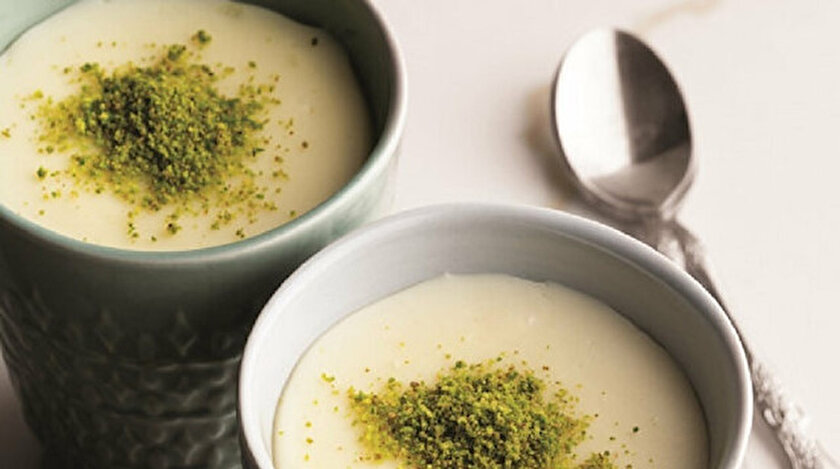 Muhallebi is a creamy dessert, in many ways similar to the French blancmange. It is made with a combination of milk and sugar that is cooked and thickened with cornstarch or rice flour. The dessert is usually flavored with orange blossom, vanilla, or rose water and is typically served cold.
This simple treat is believed to have Turkish origins and is enjoyed in slightly different forms across the Arabian Peninsula, Middle East, and North Africa. Depending on the region, it can be garnished with typical local ingredients such as pistachios, date syrup, almonds, walnuts, shredded coconut, cinnamon, or raisins.
In many countries and regions, it is one of the favorite sweets served during the holy month of Ramadan.
The origin of this dessert is linked to the Sasanian Empire around the third century, making muhallebi one of the oldest versions of custard. The traditional preparation method includes shredded pieces of chicken and Turkey is one of the rare countries that still serves muhallebi by following its original, authentic recipe.
6.Zerde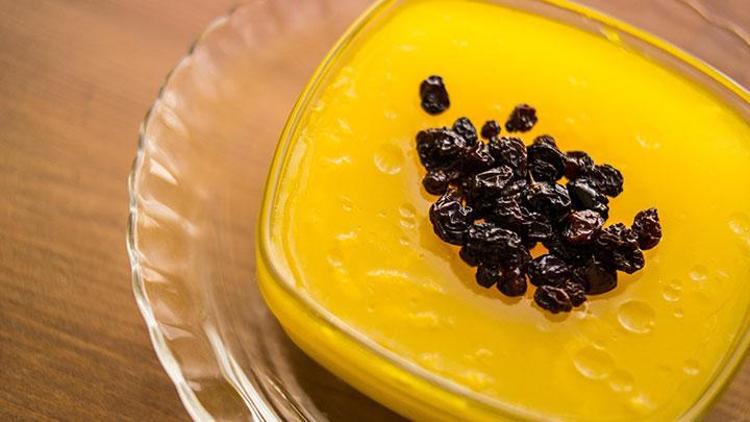 Zerd comes from Persian language zard (زرد) which means yellow.
It is a sweet rice pudding originating from Turkey. The rice is boiled in water, then combined with sugar, a bit of turmeric, and saffron – giving the dessert its typical yellow color. It is usually garnished with pine nuts, pomegranate seeds, and pistachios.
Zerde differs from rice pudding insofar as it is prepared with water instead of milk.
In Turkey, zerde is very popular in regions where traditionally paddy fields are found. In Edirne Province at Eastern Thrace, which provides almost the half of country's rice production, zerde is a favored dessert
It is traditionally prepared for weddings and birthdays, but it is especially popular during the month of Ramadan.
7.Supangle-Turkish Chocolate Pudding
Supangle is a popular Turkish dessert consisting of a base layer of cake pieces that are topped with rich chocolate pudding. The pudding is made with milk, sugar, flour, cocoa powder, butter, and dark chocolate. Supangle is traditionally garnished with ground walnuts, almonds, pistachios, or shredded coconut.
Due to the fact that it is typically served cold, a scoop of ice cream is a welcome addition on top. Although the name supangle comes from soupe anglaise / zuppa inglese, it bears no resemblance to that dessert.
8.Pepeçura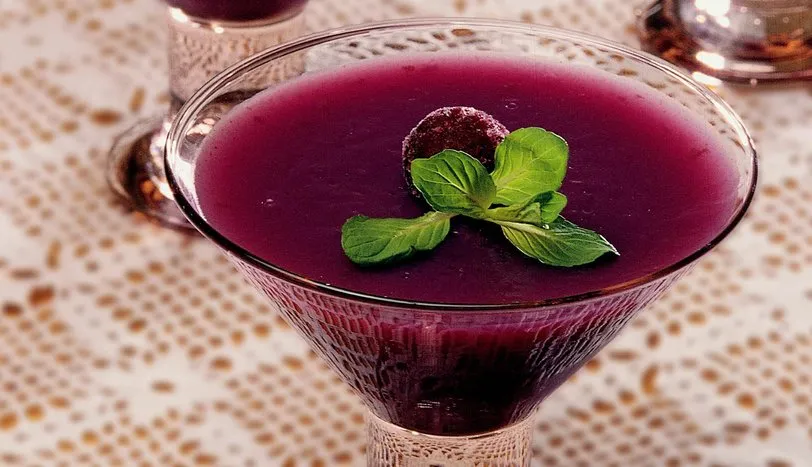 Pepeçura is a sort of pudding in the Turkish cuisine, especially of the eastern Black Sea Region, made of black grape must mixed with flour and milk and boiled until thick. It may also include almonds, walnuts, and other nuts.
Grape must is the juice from pressed grapes before fermentation, and is often used as a sweetener in traditional bread recipes, as well as in the preparation of desserts and candy. This grape must pie is a favorite, especially popular at grape harvest season when the must is fresh.