We are continuing our journey trought the paths of turkish desserts. Due to great mixures of cultures and spreading of Otoman Empire, the culture of desserts is quite diverse and widely spreaded. After introducing You with lokum and baklava, we will share some not so famous turkish dessert that are widely consumed throughout all the country.
1.Kunefe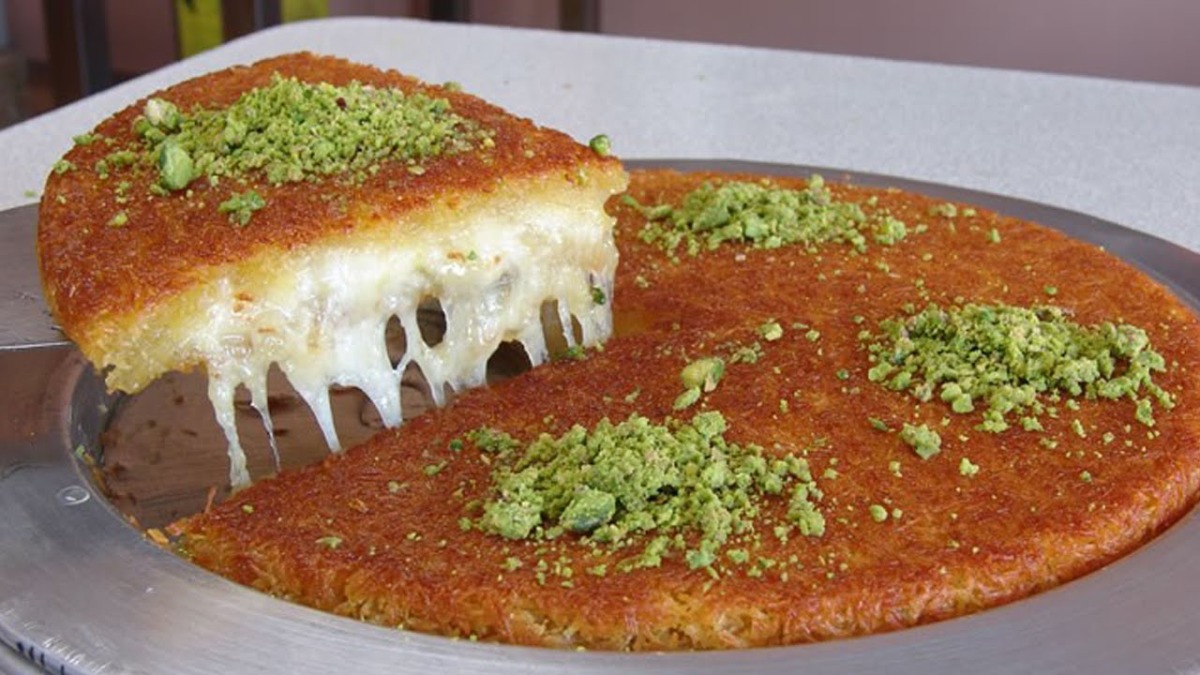 Known by various names, including kunafeh, kunafah, knafeh, and künefe, this is a traditional 10th-century dessert invented in the Palestine, and is prepared from cheese pastry coated with a sugar-based syrup.
The künefe is a sort of cake that is traditionally eaten in kebab restaurants. It is usually not found in pastries, because it must be eaten hot. Originally from the south of Turkey, it is made from angel hair, a Turkish cheese called dil peynir (local version of mozzarella) butter, and sugar syrup.
Kunāfah consists of two crunchy layers of shredded and buttered kataifi or knefe dough, filled with a luscious cheese cream that's often flavored with orange zest and cardamom, then drenched in a sugar syrup infused with lemon juice and orange blossom water.
Turkish künefe is traditionally made with Hatay, Urfa, or Antep cheese.
It can be topped with pistachios, kaymak (clotted cream) or ice cream—or simply eaten on its own, preferably while still piping hot.
2.Trilece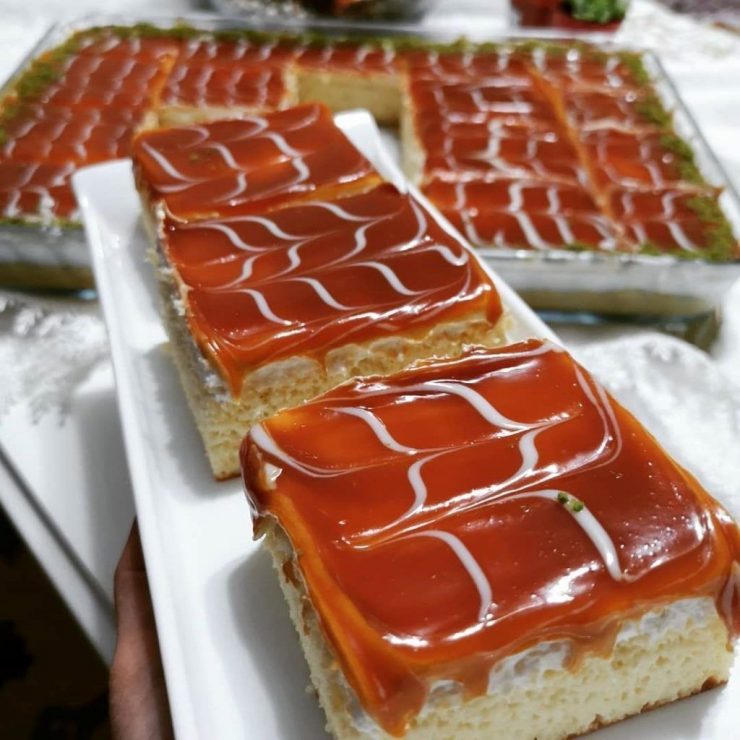 Trileçe is a cake from the Balkans From the great Bosphorus palaces to small traditional restaurants, everyone is serving trileçe. The fashion of the trileçe began in Istanbul and it most probably that the Albanian immigrants reintroduced it to the Turkish kitchens.
The trileçe is a soft cake like a tiramisu made from three different kinds of milk (cow's milk, sheep and buffalo milk) with a caramel layer on top.
3.Revani
Revani is a classic dessert that has been present in Turkish cuisine since the Ottoman period. It is said to have been given its name when the Ottomans conquered the city of Yerevan in what is today Armenia.This dessert has been adapted by many Mediterranean and Middle Eastern cultures. It is called basbousa in Arabic and shamali in Armenian.
The Turkish revani dessert is made from a semolina cake that's soaked in simple syrup. Some revani recipes also add an extra touch, such as rose water, to the syrup to make the dessert even more fragrant.
4.Tavuk gogsu
This is one of the most popular desserts in Turkey. It is very original because it is a kind of pudding made from chicken breast, rice, milk, sugar, and cinnamon. "Tavuk göğsü" means "chicken breast".
The legend says that one night the Sultan was craving for something sweet but the cooks of the palace were in a panic because there were not enough ingredients to make a pastry. They had the idea to use chicken breasts to create this unusual dessert.
In reality, tavuk göğüsü is very similar to blancmange, an English dessert from the Middle Ages.
5.Güllaç
The güllaç is an Ottoman dessert that is found especially during the month of Ramadan, it is cited in a cookbook retracing the banquet celebrating the circumcision of the son of Suleiman the Magnificent in 1539.
Considered as the ancestor of the baklava, the güllaç whose etymology comes from "güllü-aş" or "rose meal" has a unique texture with ingredients such as rose water, walnut, pomegranate, and milk. You can also find other fruits in some variants.
To prepare güllaç you must dip very thin sheets of phyllo dough in some sweet milk, then once well softened, superimpose them in a plate. Once in every two or three sheets of phyllo dough, you sprinkle walnuts, hazelnuts, pistachios, ground almonds, or coconut powder. Then the dish is covered with the milk used for dipping, fragrant rosewater, and/or vanilla. Everything is usually decorated with a line of chopped pistachios and a candied cherry (or pomegranate seeds, if in season).
6.Kaymakly kayisi
This unique Turkish dessert consists of dried apricots that are first cooked in a lemon-flavored syrup until soft, then stuffed with kaymak—a type of clotted cream made with water buffalo milk. In the end, the apricots are rolled in ground pistachios.
Fruity, creamy, and nutty all at once, kaymaklı kayısı delivers an interesting combination of textures and flavors. To enhance their color, the apricots can also be simmered in red wine, and alternatively garnished with walnuts or hazelnuts, while blanched almonds can also be added to the cream filling.
7.Ayva tatlısı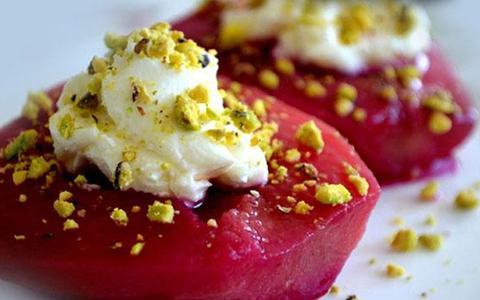 "Ayva tatlısı" means quince dessert. These are half quinces cooked in a light syrup, then in the oven, and finally into a thicker syrup. After over an hour of cooking, the quince is very tender and sweet, and is eaten with a spoon and always served with "kaymak" which is a delicious buffalo milk cream. It is also sprinkled with pistachios or walnuts.
There is also an alternative version with pumpkins called "kabak tatlısı".
8.Ekmek kadayıfı
Made with a special kind of dehydrated bread soaked in sugar syrup, the ekmek kadayıfı is traditionally prepared during Turkish religious celebrations such as Şeker Bayramı (lit. festival of sweets), which marks the end of Ramadan, the Islamic holy month of fasting.
This simple, yet bountiful dessert is topped with a dollop of thick Turkish clotted cream called kaymak, and it is served sprinkled with either roughly crushed pistachios or walnuts. For those who like their desserts to be a little lower on the sweet scale, the sugar syrup can be flavored with lemon juice, which adds a nice hint of fresh tartness to this heavily sweetened bread pudding.
9.Kadayıf
Kadayif is a Turkish dessert made from shredded wheat with Turkish pistachios and sugar syrup. Bearing a resemblance to Künefe, Kadayif does not have cheese, and is eaten cold. Shredded wheat is pressed out in sheets and then rolled around a center of pistachio.