Turkish delight is one of the most famous turkish sweets and one of the most well-known foods of the Turkish cuisine. It can be found in many shapes, colours and sizes in almost every store in Turkey. They are representation of rich and colourful turkish culture.
Traditional Turkish delight is produced with water, sugar, citric acid and starch and optional flavours. It can be made with almost every aroma with different production methods in order to appeal to every taste: sesame, orange, simple pistachio croquant, pomegranate, rose leaf, walnut, hazelnut, double roasted, king delight, amulet delight, mint, almond, gum mastic, lemon, coconut, creamy, pistachio, chocolate, etc. delicious delights are sold in ornate packaging in almost every market.
The most important feature of Turkish delight which is cut in small cubes or rectangular shapes after being poured into molds and cooked is being soft and elastic.
The Turkish names lokma and lokum are derived from the Arabic word luqma(t) and its plural luqūm meaning "morsel" and "mouthful". The alternative Ottoman Turkish name, rahat-ul hulküm, was an Arabic formulation, rāḥat al-hulqūm, meaning "comfort of the throat", which remains the name in formal Arabic
History and origin
History of Turkish delight, which is one of the important flavoursof ottoman cuisine, is based on quite old times. "Abhisa" is a dessert that was eaten by Sasanians governing in Iran between 226 and 652 years before christian era. It is predicted that abhisa underlied Turkish delight.
There are many legends associated with it's origins. One such legend involves the Sultan Abdul Hamid. Abdul Hamid was not considered to be a great military leader, but he did possess an understanding of women. He believed that the way to a woman's heart was through her stomach.
Eager to woo his four wives and hundreds of mistresses he summoned to his court the greatest confectioners in the Empire and ordered them to come up with a sweet that was so delicious that the ladies of his harem would stop their arguing and peace would reign throughout the palace. And so Turkish Delight, or Lokum as it was known then, was born.
The confectioners' efforts worked wonders. The bickering ceased and the Sultan himself found the dish so tasty and stimulating he insisted on a plate of Lokum with their daily feast. From then on, it became an institution of the Ottoman Court.
According to another legend, the Turkish Delight was the handiwork of a confectioner named Bekir Effendi. Bekir was a native of a small town named Kastamonu, high up in the mountains of Anatolia, who came to Istanbul in 1776 and set up his sweet shop.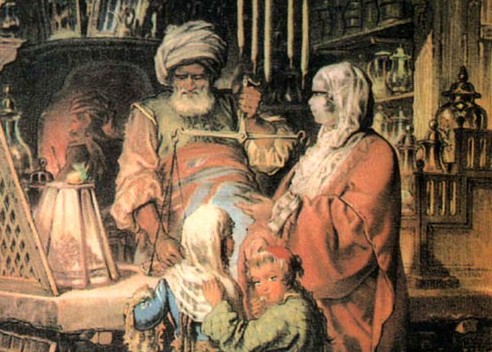 He was an ingenious confectioner and the kitchen was his canvas where he gave vent to his imagination. The Turks are famed for their sweet tooth and it was not long before Bekir Effendi wormed his way into their hearts with his Turkish Delights.
Turkish Delights wrapped in lace handkerchiefs became a chic gift item amongst the socialites. Couples exchanged them as tokens of love. Turkish Delights also became a popular tidbit.
Bekir Effendi's soft and tender Turkish Delights soon gained entry into the royal court. The Sultan, fed up with the available tough-as-nails candies, took to Bekir's creations like a fish to the water. This royal acceptance elevated the Turkish Delight almost to the status of a cult.
Bekir Effendi's business flourished as even the royal courtesans trudged down the hills to buy from him. He came, he saw and he conquered Istanbul with his brand of Turkish Delights.
Bekir's shop still stands today on Hamidiye Caddesi at the corner of Seyhülislam Hayri Effendi Caddesi, two blocks east of the Yeni Cami (New Mosque) in Istanbul. This 250-year old confectionary is a Turkish institution, which still dishes out the most sumptuous and choicest Turkish Delights in the whole of Turkey.