When deciding to go abroad, a lot of people are facing the great question, which country to go to? Which city to choose? Each of us have different preferences, some are choosing the destination based on their education and faculty, some are choosing destination for fun, some because of travelling, some because of money. There are a lot of criteria to be considered. But still there are some countries that offer everything, a full package with good universities, a lot of places to explore, they are cheap and the party is guaranteed. We will list you 5 countries that are among most suitable places to do your Erasmus+.
1.Czech Republic
This Central European country is a historical and nature gem. Prague and Brno are one of the most popular cities to do an exchange and it is for a reason. But we will talk about Prague here.
Prague is a historical city resembling like something that came from a fairytale with a lot of castles, fortresses, stone alleys, bridges and also it has one of the oldest Universities in Europe: Charles University, established in 14th century. The University is consisted out of 17 Faculties so You can find almost every department there.
The vibe of the city is a bit hipsterish with a lot of park where people hang out and with a lot of skaters, in non other city in Europe You will not find so many skaters. It is a city full of greenery, with three large parks, Letna Park and Riegovy Sady, each of them on the opposite side of hills with the view on the city and Stromovka park with a big lake.
The best thing about this city is that all the best places, bars for young people are hidden. On the first glance this city send historical and cultural vibe, but when You search deeper, You will discover so many unique places for Young people to hang out. A lot of places is located in the basement, because its make much less noise like that and it does not disturb public. If not it the basement, the best bars and clubs are incorporated somewhere in the nature or a bit outside of center.
Certainly one of the most famous things about Czech people is that they drink a lot of beer, starting from the early morning and that is true. They have a lot of types of Beer and it is literally cheaper then water. Another famous drink is Beherovka, which when makes with tonic taste like gingerbread.
The food of Czech Republic is a bit heavy with a lot of pork meat, bread and potatoes, but very delicious.
Czech Republic is one of the cheaper countries, but the historical center of Prague is not cheap because it is a very touristic area, but if you move just a bit from the center, everything will be affordable.
There is a lot of nice cities and places to visit in Czech, like Karlovy Vary, which a city with termal water and full of Ortodox Russian architecture; Český Krumlov, historical city built in 13th century around the castle; Bohemian Paradise, which is a large protected nature area; Bohemian Switzerland National Park, the place where Chronicles of Narnia were filmed, Plzeň, the birth place of the famous pilsner beer.
There are a lot of youth organizations that are taking care of the incoming student: making parties, organizing trips, tournament, sport days, etc. For sure You will not be bored in this city and by joining some of the events you will meet a lot of people and have a great fun.
2. Poland
Another popular destination in Central Europe is Poland. Poland got its name from the word "polje" which means field, and that is because the whole country is flat, there is just one mountain, Tatar mountain on the border with Slovakia.
The popular cities for an Exchange are Krakow, Katowice, Gdansk, Warsaw and Wroclaw, the city of dwarfs. Katowice is famous for its Technological University, in Krakow there is Jagiellonian University, established in 14th century which makes it the oldest University in Poland. Although Warsaw is the capital, the most famous destination is Krakow. Krakow its a small city with 800 000 people and 170 000 of those are students. It is also popular touristic destination for British people. Like almost every city in central Europe, this one is also built around castle Wawel and river Vistula. Beside the historic things to see and experience, there are things like Schindler Factory, Jewish Neighborhood, Auschwitz Concentration camp, salt mines, etc. In Warsaw the architecture is so called "Stalin baroque" with a lot of socialistic building and history. So You can learn a lot in Turkey about history of 20th century, because we learn the best by experience.
The Polish food is also heavy with potatoes, bread and meet. The most famous dish are pierogi, small pieces of pastry filled with cheese, spinach, meat, eggs and zapiekanka, a large piece of bread topped with cheese, meat, vegetable, etc. Poland is county famous for votka, they have a lot of their brands and it is very cheap. The prices in Poland in general are very low, cheaper then Czech, if you are a student in Poland, You have 50%percent discount on train tickets so travelling is very affordable.
The city of Krakow is always full of life, you can find various events all across the city, they even have a one week long student festival where the major of the city gives keys of the city to the student so students own the city for a week. There is a huge parade and concerts every day.
Nonmatter which city You choose in Poland, you will not regret, but in our opinion Krakow is the best option.
3.Spain
Moving away from Central Europe, on the South West of Europe we have Spain as another popular destination.
The issue that people can face here considering education is that majority of Faculties require some level of Spanish knowledge, even if they don't require it, You will have lessons in Spanish. Weather You are a sea person or more continental one, you can find your suitable city. The most famous destinations here are Barcelona, Madrid, Sevilla and Murcia.
Spain is a warm country with friendly and cheerful people who likes to enjoy their life. It is impossible to be sad in this sunny country, the vibe will just take you away. This country also have a great history and a lot of mixture of culture. The whole country is very different in style, from North to South. At the South you can find a lot of influence of Arabic culture so it is a bit more exotic.
It is a party country and most of the youth choose it for that reason but this country is not affordable to everyone, unless You have some extra money on the side, the scholarship wont be enough.
4.Portugal
Porto, Lisbon and Coimbra are perfect cities to do your exchange. There are all located on the coast of Pacific ocean. The Portuguese people are very relaxed and open. Although life in Portugal is cheap, the rent is around 400 euros. It is a country famous for good and cheap wine.
One of the advantages of doing Erasmus here is that the country is small, so you can explore everything. Also there have a long tradition of Student Associations that do they best to make your experience the best one in life. ESN (Erasmus Student Network) Porto is one of the best ones in Europe with so many organized parties, trips, hanging outs.
The country has a beautiful nature and you can even try out surfing.
5.Croatia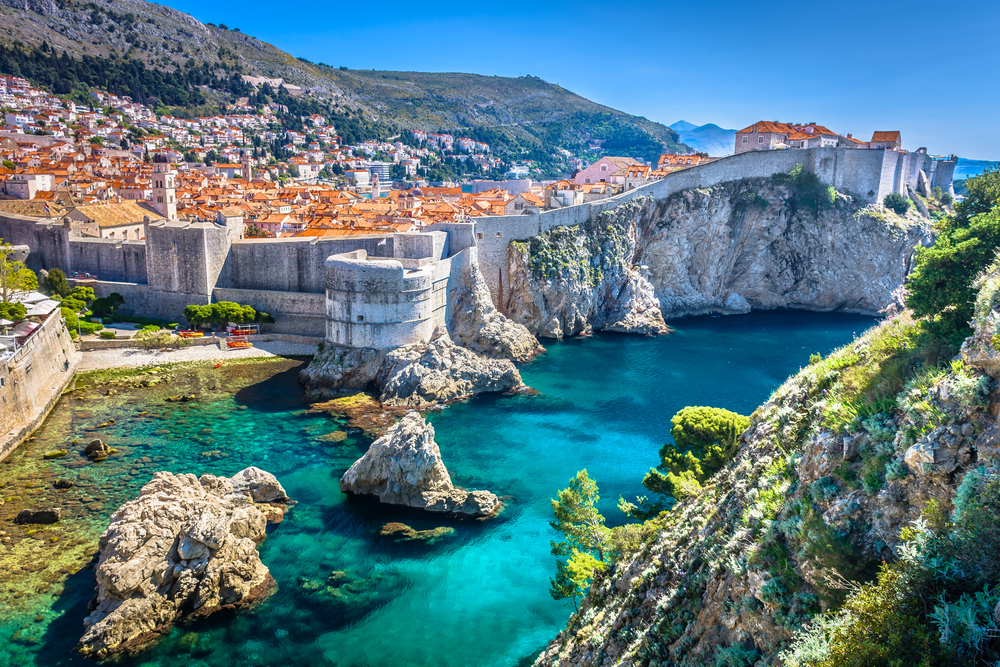 This country is becoming more and more popular among students. This small country in the Southeast of Europe is so diverse. On the east there are fields and crops, in the continental part there is Hungarian and Hapsburg influence in architecture, on the coast there are beautiful beaches with clear water and a lot of Roman remains, there is also a region with mountains, spring water, waterfalls and evergreen forest. I found this quite fascinating due to the size of the country and its population of 4 million people. So it it like You are visiting 4 countries in one. It is a touristic country, but if you decide to go there on exchange, we advise you to go to capital Zagreb, because majority of coast cities are quite empty during off season.
Zagreb is the biggest city in Croatian and it is full of live because people from all over the country come to study there. There are plenty of bars, festivals, events, You will never be bored there. Considering its a Balkan country it is very cheap.
Among others, popular destinations are Germany, Netherland and France, but of course it all depends on Your preferences, style, finance and educational opportunities.